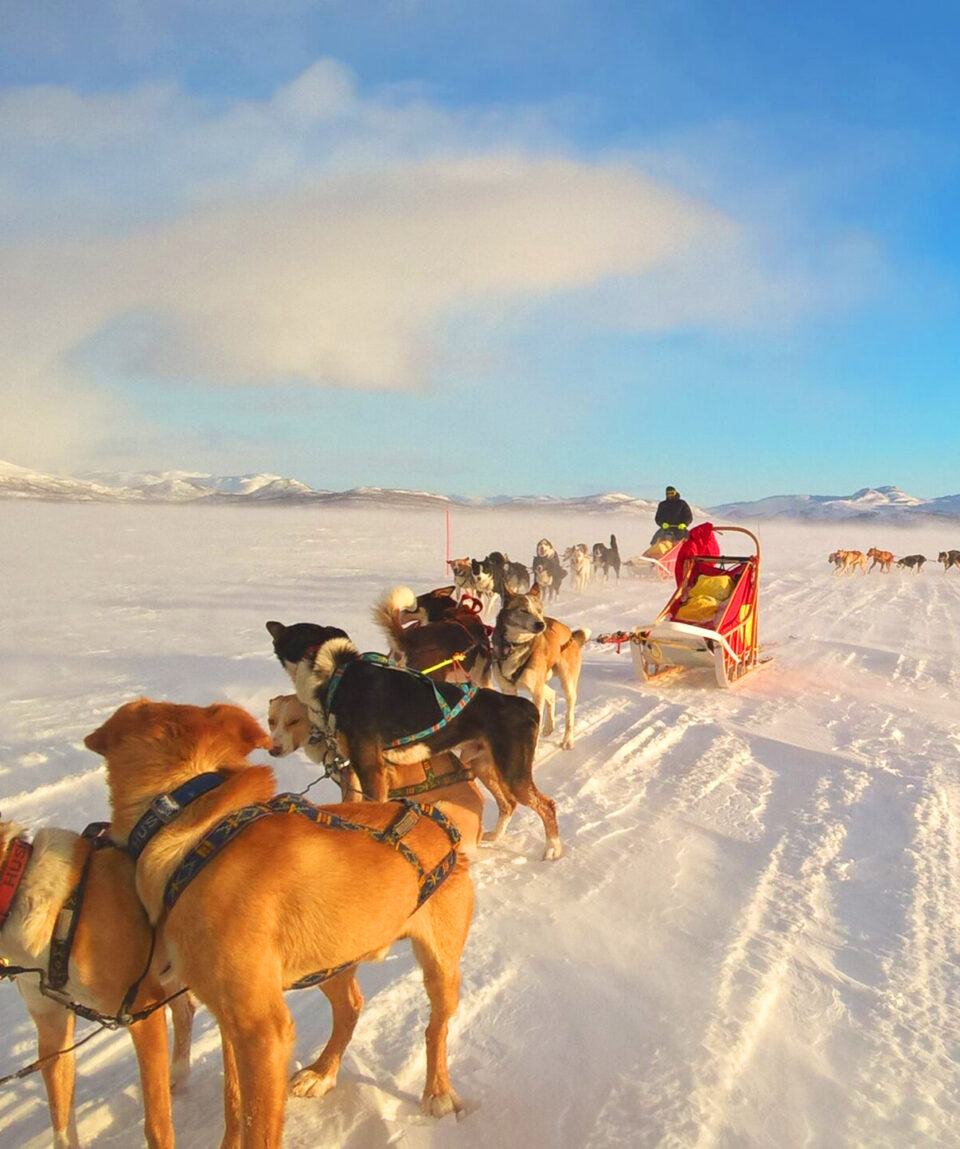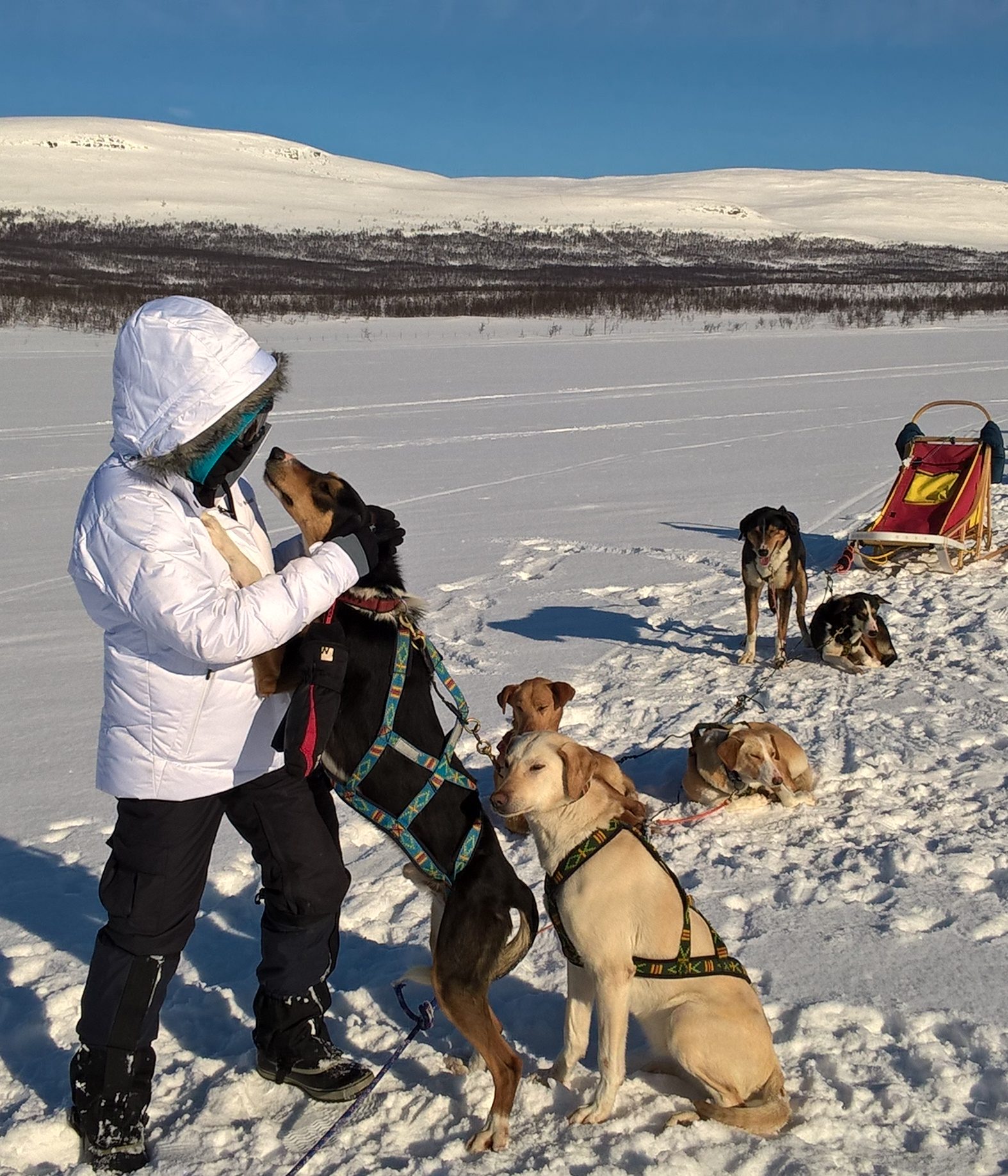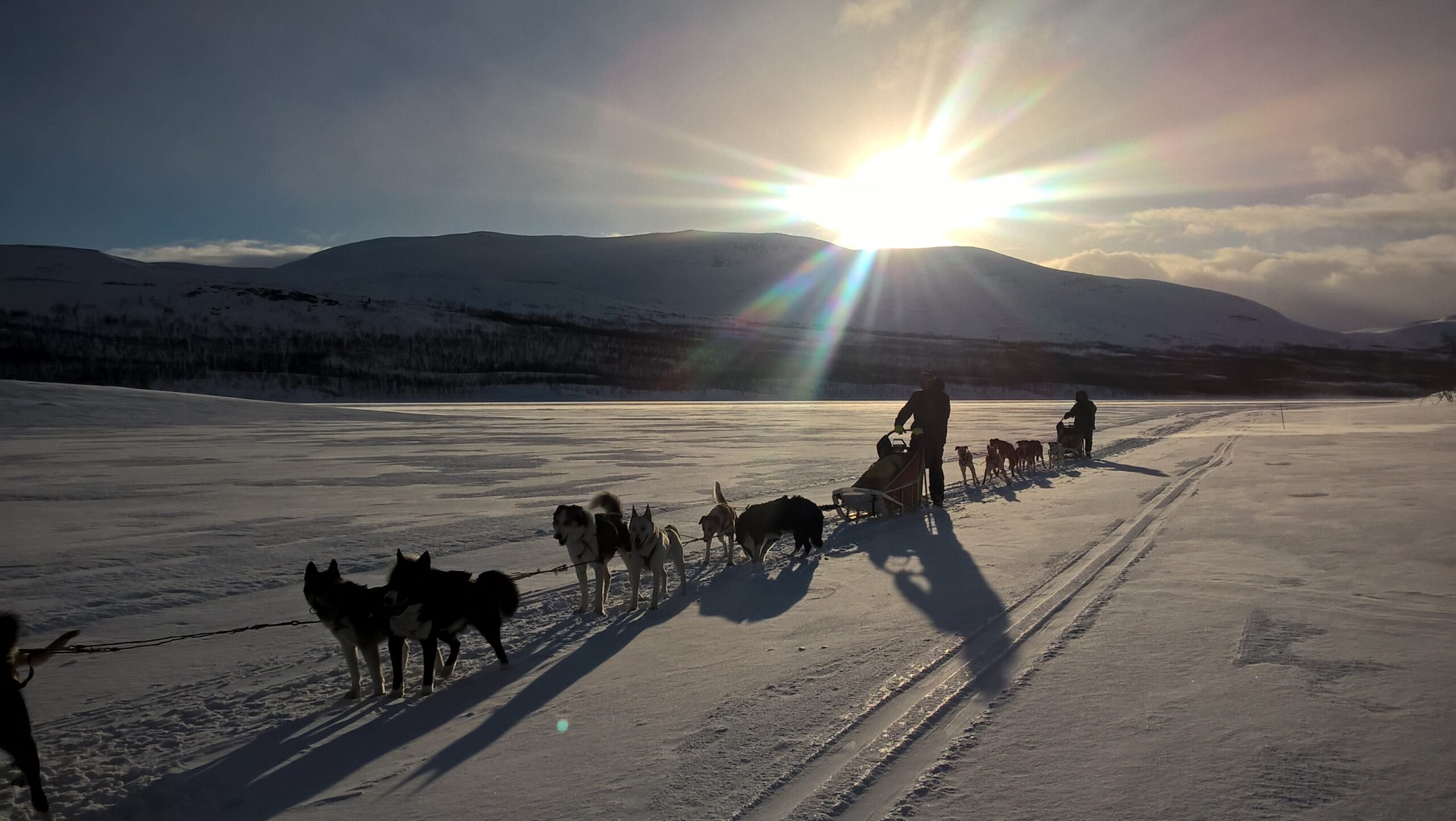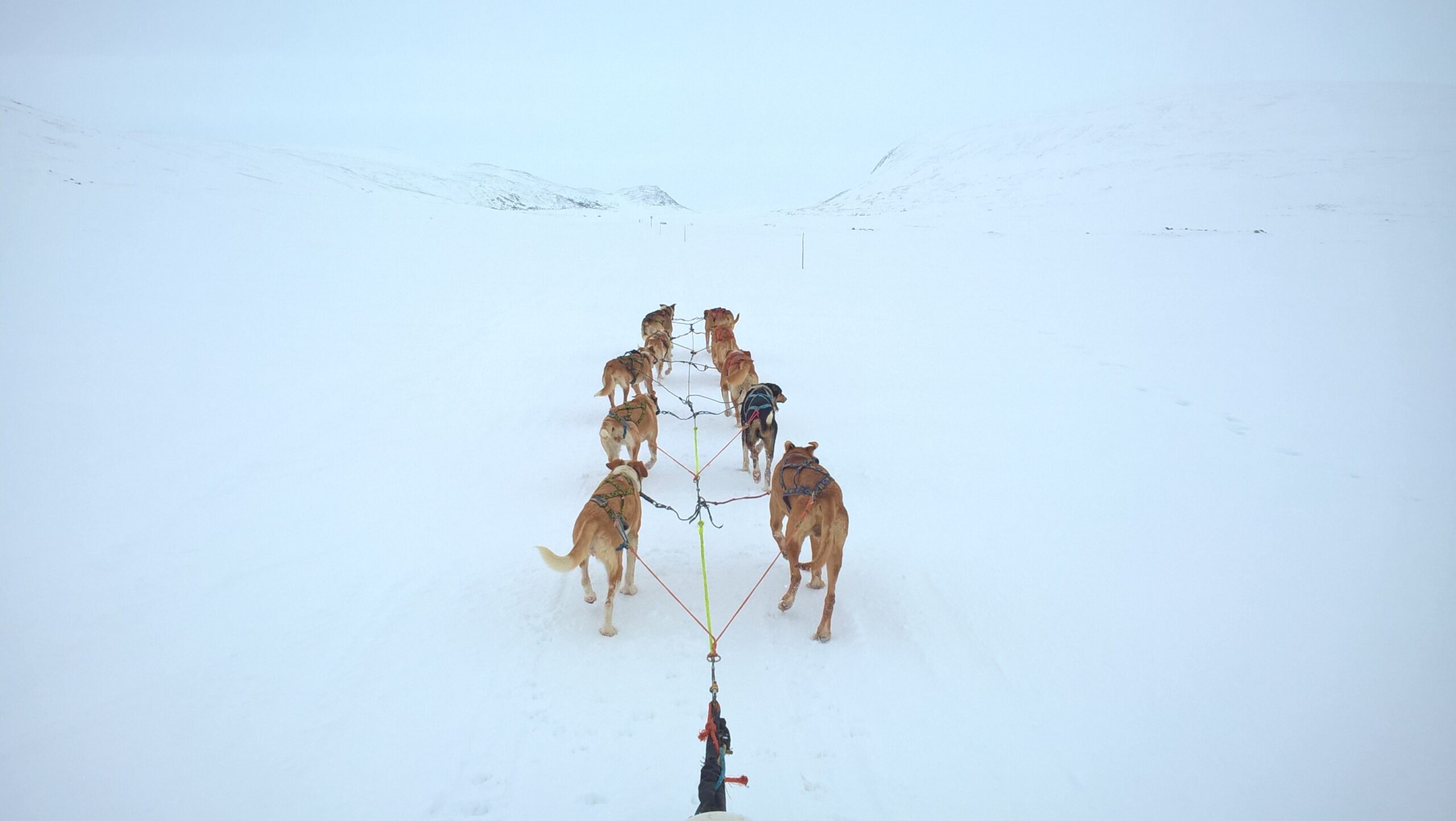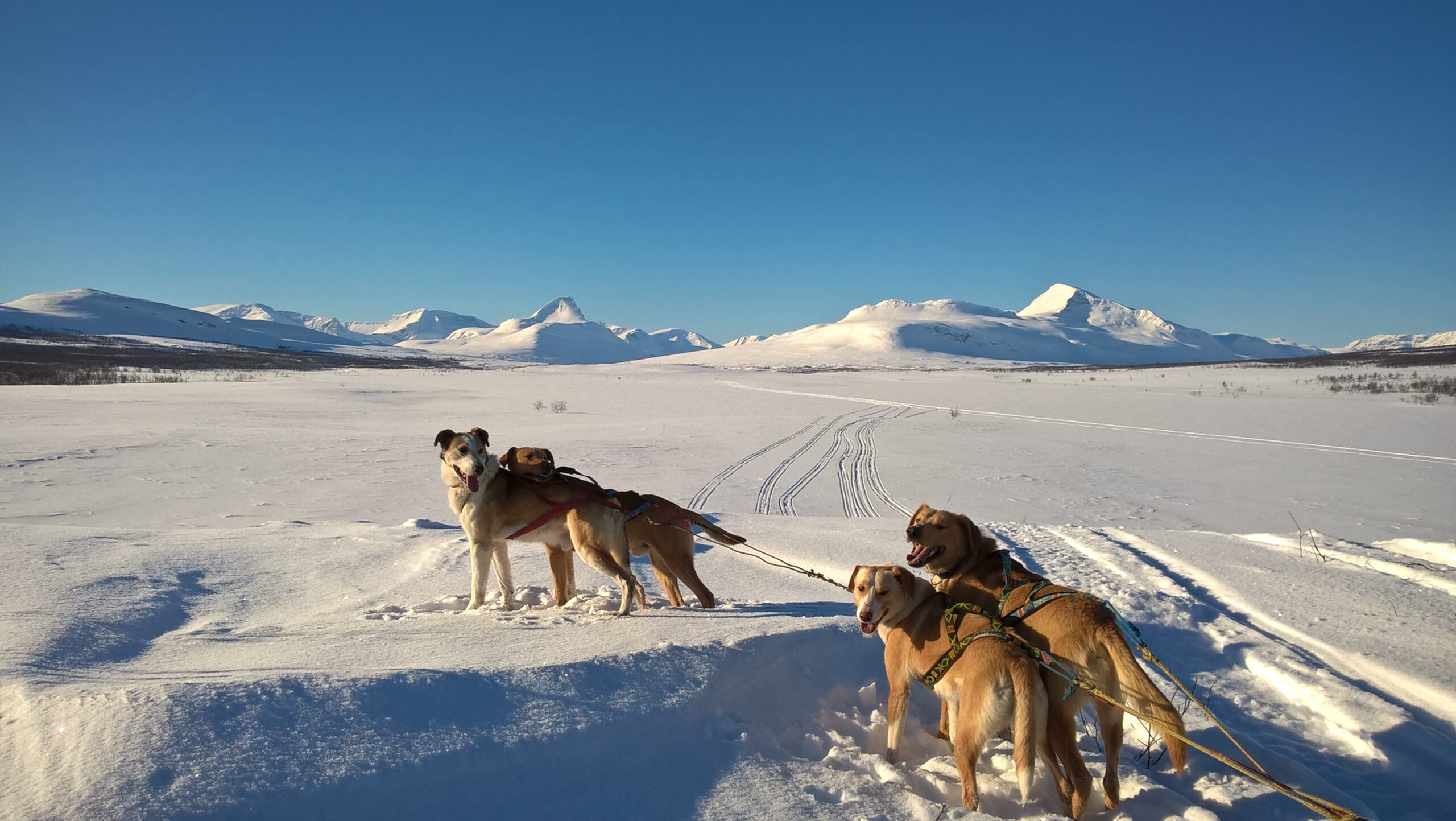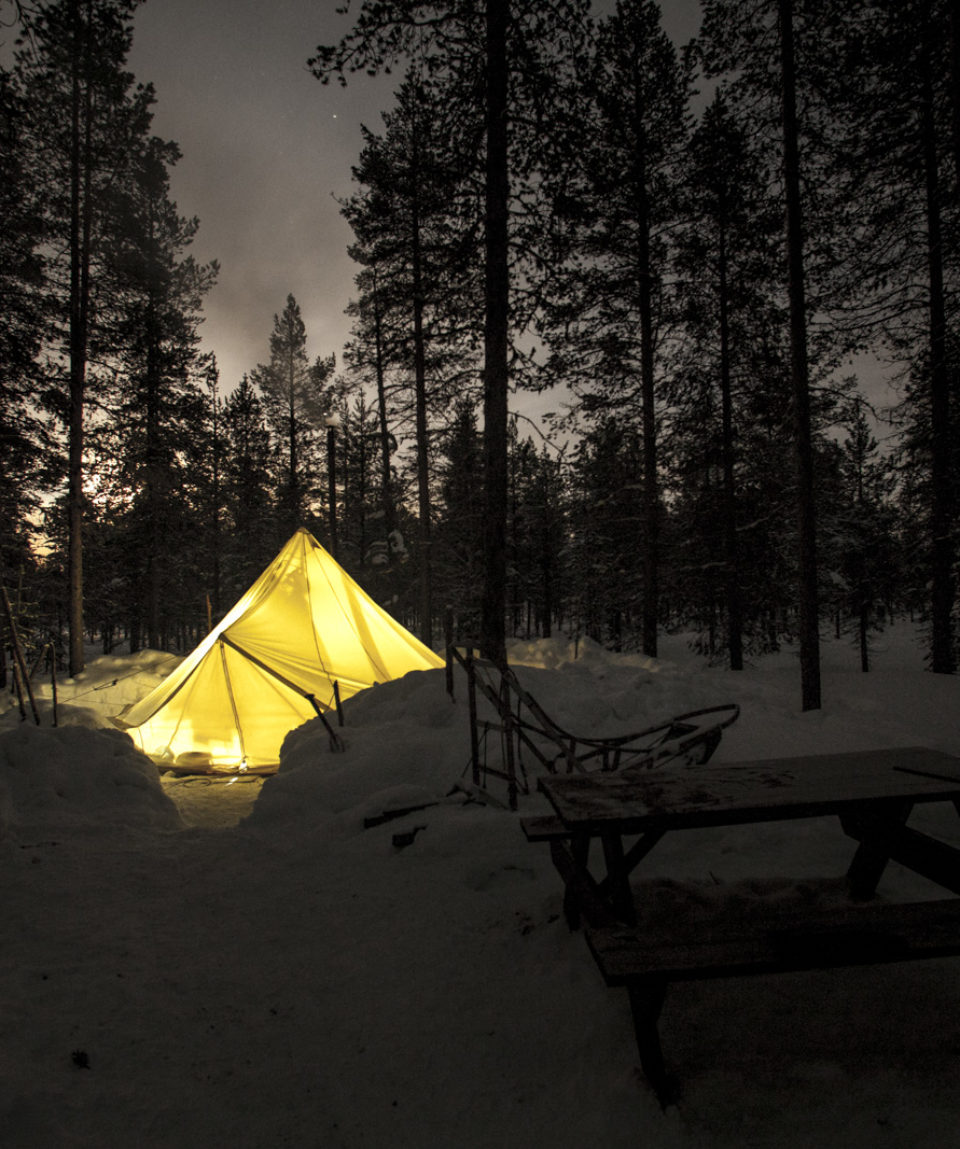 Arctic Quest – [5 days]






---
Bookings open for: February – March 2024
Experience the beauty and excitement of an Arctic adventure during 5 – days expedition in Lapland!
Perfect for everyone without any prior experience in dog sled travel, this expedition provides a safe and fun opportunity to explore the frozen wilderness with a team of expert guides and well-trained sled dogs.
The Arctic landscape is a pristine wilderness teeming with wildlife and awe-inspiring sights. You'll have the chance to travel through stunning snow-covered landscapes, taking in breathtaking views of the surrounding mountains, forests and lakes. With small luck you will see arctic foxes, reindeer, and maybe even catch a glimpse of the elusive Northern Lights dancing across the sky.
Our experienced guides will ensure your safety and comfort throughout the journey.
Get ready to immerse yourself in this Arctic wonderland!
Day One: Welcome the Arctic Realm
As you step off the plane at Ivalo airport, our expert guide will be there to welcome you to the enchanting Finland. Our guide will take you directly to your lodging. On the way you will hear the insider tips on the local attractions and introduce you to the captivating culture of Lapland.
Day Two: Harness the Adventure
After breakfast, get ready for the real adventure to begin. We'll whisk you away to our mushers camp to meet our lively sled dogs and learn the art of dog sledding. Our experienced mushers will teach you the techniques of riding the dog sled and the rules of the trail. You will learn how to prepare all the equipment and make sure we don't run out of anything in the following days.
Ready ? Last sip of warm coffee and let the adventure begin!
Each participant will have the incredible opportunity to guide their own team of 4 to 8 energetic dogs. As you traverse the snow-covered trails, you'll be in awe of the breathtaking Arctic scenery surrounding you. At the end of the day's journey, we'll ensure the dogs are well taken care of, fed, and the camp is set up.(We will spend the night in a lumber cottage). 
After dinner there will be time to try a real local adventure: a Finnish sauna, enveloped in the warmth of rustic wood or if the sky will be clear: we will search the night sky for the enchanting dance of the aurora borealis.
Days Three and Four: Frosty Trailblazing
More thrilling days as continuation of our expedition along the frosty Arctic trails. Marvel at the stunning landscapes as you glide through this winter wonderland. Each day will bring new adventures and unforgettable moments.
On the fourth day, after returning to our camp, we'll transport you back to your lodging, ensuring you have a comfortable and relaxing end to your dog sled expedition.
Day Five: Departure with a Taste of Adventure
As your unforgettable Arctic journey comes to an end, we ensure your seamless transportation to the airport. You will leave Lapland with a Treasure Trove of Extraordinary Memories.
If you would like to extend your stay on your Lapland adventure, you can stay longer and immerse yourself in the region's charms…
INCLUSIONS
3-day dog sledding trip 

4 nights accommodation

2 meals a day

Expedition and masher's training

Masher's guide assistance during all expedition

Traditional Finnish (smoked) Sauna experience ( 2nd and 3rd day of expedition)

winter suit rental for the expedition time

return Airport transfer (From/To Ivalo airport)
EXCLUSIONS
Trip cancellation insurance or any other travel insurance

Flights to and from Ivalo
REQUIREMENTS
A minimum level of medical and travel insurance is required.
Physical requirements – Moderate Physical Fitness
It is beneficial to have a basic level of fitness. Dog sled tours often involve outdoor activities in cold weather conditions, including walking on snowy terrain, assisting with harnessing and unharnessing the dogs, and occasionally helping to push or maneuver the sled. It's important to have a certain level of stamina and mobility to fully enjoy the experience.
Minimum age: 18* years old 
*younger people after consultation with the organizer
Minimum weight: 50kg






If you are interested to take part in the expedition, please contact us via:
Available expeditions dates:
February 8-12
February 22-26
March 14-18
March 21-25
March 28 – April 1
---
Vacation Style Holiday Type

Adventure, Dogsled, Expedition

Activity Level

Challenging